Kaye was awarded the title of Fellow by the American Society of Interior Designers this past July in Washington, D.C.  It is the Society's most prestigious award, and recognizes a lifetime of great design and professional contributions to the interior design community.  While ASID membership now includes nearly 20,000 designers across 350 national chapters, only 301 fellowships have been awarded in the organization's 43 year history.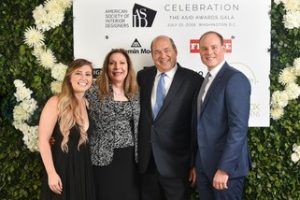 Press Release:
https://www.asid.org/press-releases/asid-announces-2018-fellows-and-honorary-fellows
About ASID:
The American Society of Interior Designers (ASID) believes that design impacts lives.
Founded in 1975, ASID is the oldest, largest and only multi-disciplinary professional organization for interior designers, interior design students and the manufacturers and suppliers who support the profession.
The rich, vibrant history of the organization goes back to the founding of its predecessor organizations, the American Institute of Interior Designers (AID) and the National Society of Interior Designers (NSID).